Takashi Kako Solo Concert 2014
-Play Klee and Hokusai-
---
Tokyo
Date and Time

Sat, 11th October 2014, Start 3:00 PM (Open 2:30 PM)

Venue

Suntory Hall Access

Tickets

S-Seats, ¥6,500
A-Seats, ¥5,500

All seats reserved, Tax included, It is not possible to admission of preschoolers.

Ticket Release Date

Sat, 7th June 2014

Inquiry

KYODO TOKYO 

0570-550-799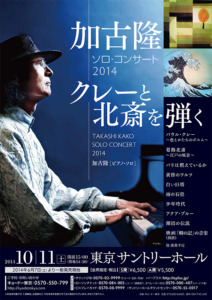 Takashi Kako Solo Concert 2014 -Play Klee and Hokusai-,

Details of all performances
Date
Start (Open)
Ticket
Ticket Release Date
Inquiry

[Sapporo]

Sapporo Concert Hall Kitara

Fri, 26th September 2014

7:00 PM (6:30 PM)

All seats reserved

¥5,999

Fri, 30th May 2014
office ONE

011-612-8696

[Osaka]

Izumi Hall

Sun, 5th October 2014

3:00 PM (2:30 PM)

All seats reserved

¥6,000

Sun, 1st June 2014
KYODO INFORMATION

06-7732-8888

[Tokyo]

Suntory Hall

Sat, 11th October 2014

3:00 PM (2:30 PM)

All seats reserved

S-Seats ¥6,500

A-Seats ¥5,500

Sat, 7th June 2014
KYODO TOKYO

0570-550-799

[Nagoya]

MS&AD Shirakawa Hall

Mon, 24th November 2014

2:30 PM (2:00 PM)

All seats reserved

¥6,000

Sat, 5th July 2014
CHUKYO TV ENTERPRISE

052-957-3333
Official Advance Reservation
Period

From "8:00 PM on Sat, 26th April 2014" through "11:00 PM on Fri, 30th May 2014"

URL

Limit

Limited to 4 per customer.
If you are a member of the fan club, please apply from there.
---
Musical Program
KLEE ∼ Poem of the color and the shape / HOKUSAI ∼ The landscape of Edo / Is Paris Burning / Waltz in the Evening Glow / Shiroi Kyotou (The Great White Tower) / Pavement under the rain / Childhood Days / Aqua Blue / The legend of lake / Music from "Higurashi no Ki (A Samurai Chronicle)" / Others
∗ Musical program is subject to change.
---