Nobuyuki Tsujii × Takashi Kako × un sept six PIANO! PIANO !! PIANO !!!
Mt.Fuji Kawaguchiko Piano Festival 2021
---
Details
Date and Time

Sun, 26th September 2021, Start 2:00 PM (Open 1:00 PM)

Venue

Yamanashi, Kawaguchiko Stella Theater Access

Tickets

General, ¥6,500
Members & Fujikawaguchiko Townspeople, ¥5,400

All seats reserved, Tax included, It is not possible to admission of preschoolers.

Ticket Release Date

Sat, 31st July 2021, 10:00 AM

If you are coming in a wheelchair, please contact the venue before purchasing.

Inquiry

Mt.Fuji Kawaguchiko Piano Festival Secretariat 

0555-72-5588

Ticket Agency

Kawaguchiko Stella Theater:

Website

https://www.stellartheater.jp/

 

0555-72-5588

SUNRISE PROMOTION TOKYO: 0570-00-337
TICKETSPACE:

Website

https://www.ints.co.jp/

 

03-3234-9999

TICKET PIA:

Website

https://w.pia.jp/t/kawaguchi-pianofes/

 

0570-02-9999 P-code (199-800)

LAWSON TICKET:

Website

https://l-tike.com/fuji-kawaguchiko-pianofes2021/

 

0570-000-407 L-code (32533)

Performance time

About 2 hours (with interval)

Festival details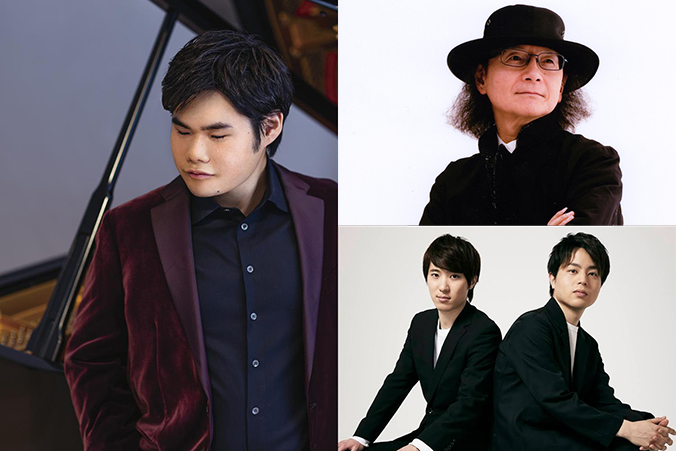 ---
Performers
1st Stage: Nobuyuki Tsujii
[Frédéric Chopin: Andante spianato et Grande Polonaise brillante]
2nd Stage: un sept six
[Plays John Williams: Main theme from "Star Wars" / Hedwig's Theme, Fawkes the Phoenix, Harry's Wondrous World (from "Harry Potter") / Flight to Neverland (from "Hook")]
3rd Stage: Takashi Kako Quartet [Takashi Kako (Pf.), Mariko Aikawa (Vn.), Kaori Minami (Va.), Akio Ueki (Vc.)]
[The Great White Tower / Respective Seas / Tempest / Is Paris Burning, Atelier with Water Lilies, The Third World (from "The Century In Moving Images") / Others]
Final Stage: Nobuyuki Tsujii with Shinpei Sasaki & Tokyo Kosei Wind Orchestra
[Scott Joplin: 3 Ragtimes (The Entertainer, Solace, Pine Apple Rag) / Nobuyuki Tsujii: Kamisama no Karute / George Gershwin: Rhapsody in Blue]
Musical program is subject to change.
---