Everest: Goddess of the Sky OST
---
Product Number

AVCL25889

Price

¥2,750 (tax included)

Release Date

9th March 2016

Label, Publisher

avex-CLASSICS (Artist Page)
The inevitable blockbuster "Everest: Goddess of the Sky" was shot in Everest, Nepal.
Takashi Kako, who has worked on the music for NHK Special "THE CENTURY IN MOVING IMAGES" and is gaining increasing attention, is in charge of the music.
The magnificent scale world view is expressed by the music unique to Kako that makes full use of the magnificent sound of the orchestra.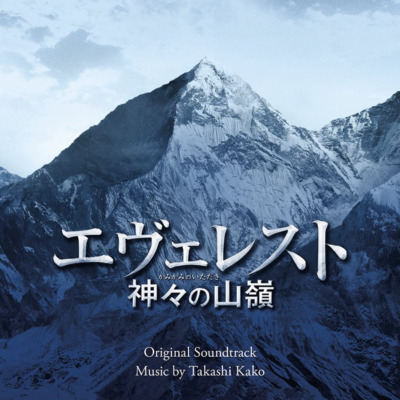 Tracklist

| | Music Title |
| --- | --- |
| 01 | Everest: Goddess of the Sky ∼ Opening Title |
| 02 | Jiko |
| 03 | Lullaby of Everest -Prologue- |
| 04 | Kaikou |
| 05 | Byoubu Iwa |
| 06 | Chinmoku |
| 07 | Yashin Part.1 |
| 08 | Shousoku |
| 09 | Be The Wind of Everest -At Grandes Jorasses- |
| 10 | Nanseiheki heno Akogare |
| 11 | Yashin Part.2 |
| 12 | Lullaby of Everest -Kathmandu- |
| 13 | Rou Sherpa |
| 14 | Be The Wind of Everest -Destiny- |
| 15 | Yashin Part.3 |
| 16 | Kamigami ni Inoru |
| 17 | Chousen |
| 18 | Be The Wind of Everest -Superhuman- |
| 19 | Zile no Shinjitsu |
| 20 | Suichoku no Hyouheki |
| 21 | Semari Kuru Arashi |
| 22 | Meguru Omoi |
| 23 | Lullaby of Everest -Reunion- |
| 24 | Kiken na Jikan |
| 25 | Be The Wind of Everest -In the Shade of a Rock- |
| 26 | Lullaby of Everest -Return- |
| 27 | Ikiru |
| 28 | Lullaby of Everest -Wind version- |
All Tracks Composed by Takashi Kako except Track13
Track02, 07, 11, 15, 17, 27 Arranged by Shu Kanematsu
Track12 Arranged by Pancha Lama
Track13 Composed by Pancha Lama and Shu Kanematsu
---