Wind Orchestra Arrangement, Abordage ∼ Theme & Galaxy
---
JAN

4540631050419

Price

¥16,500 (tax included)

Release Date

15th May 2013

Label, Publisher

ACCORD PUBLISHING
The original music is a rare music for Takashi Kako, who makes heavy use of synthesizers and electric guitars.
In "Theme", the rhythm and theme of Ostinato are played powerfully, and when played as if sung by alto saxophone in the middle part, the power is reproduced again and ends. In "Galaxy", you can feel the kindness, dreams, and hopeful music. Also it has become music to be felt again somewhere strength.
Kansai Yamamoto Super Show "Abordage" theme music.
Music Title

Abordage ∼ Theme & Galaxy [Wind orchestra arrangement version]
---
This is a new attempt to arrange many masterpieces of Takashi Kako for brass band without using the piano. Music score and CD will be released at the same time.
The world of Takashi Kako played by the wind orchestra, which not only brass band lovers but also music fans have been waiting for.
Organization: Wind Orchestra [Large organization]
Composition: Takashi Kako
Arrangement: Kyosei Yamamoto
Recording CD: Takashi Kako on Wind Orchestra
(Conductor: Tsutomu Kako / Performance: Toho University of Music Wind Orchestra Special Unit)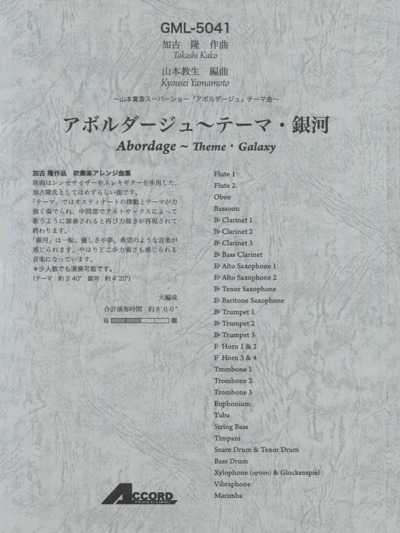 ---