Wind Orchestra Arrangement, Kumano Kodo ∼ Passage of the God 1st and 2nd Movements
---
JAN

4540631050396

Price

¥16,500 (tax included)

Release Date

15th May 2013

Label, Publisher

ACCORD PUBLISHING
The first movement is dominated by powerful and majestic music that shows the whole picture of Kumano, which superimposes the majesty of the mountains of Kumano and the eternal history. Brass, woodwind, and percussion instruments play an active role.
In the second movement, the mysterious dawn of the forest is performed by Glockenspiel, and when the time signature reaches 5, the idyllic Japanese scene is played on the alto saxophone and expands.
World Heritage Memorial Commissioned Music.
Music Title

Kumano Kodo ∼ Passage of the God 1st and 2nd Movements [Wind orchestra arrangement version]
---
This is a new attempt to arrange many masterpieces of Takashi Kako for brass band without using the piano. Music score and CD will be released at the same time.
The world of Takashi Kako played by the wind orchestra, which not only brass band lovers but also music fans have been waiting for.
Organization: Wind Orchestra [Large organization]
Composition: Takashi Kako
Arrangement: Kyosei Yamamoto
Recording CD: Takashi Kako on Wind Orchestra
(Conductor: Tsutomu Kako / Performance: Toho University of Music Wind Orchestra Special Unit)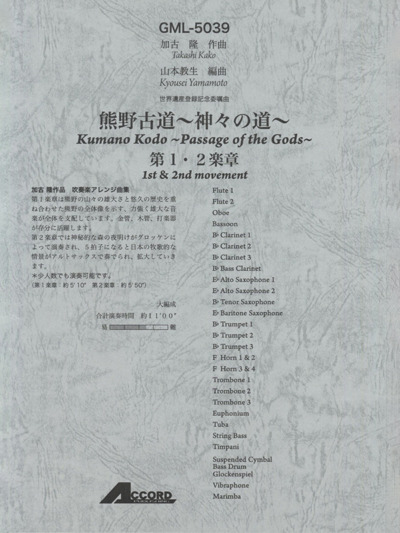 ---