---
Details
Date and Time

Sun, 29th May 2022, Start 2:00 PM (Open 1:00 PM)

Venue

Fukuoka, Hibiki Hall Access

Tickets

General, ¥3,000
25 years old or younger, ¥2,000

All seats reserved, Tax included, It is not possible to admission of preschoolers.

Ticket Release Date

Thu, 17th March 2022, 10:00 AM

Inquiry

Hibiki Hall 

093-663-6661

Ticket Agency

Hibiki Hall:

Website

https://www.s2.e-get.jp/kimfes/pt/

 

093-663-6661

Kitakyushu Performing Arts Center Q-station:
TICKET PIA:

Website

https://t.pia.jp/

 

P-code (210-631)

LAWSON TICKET:

Website

https://l-tike.com/

 

L-code (84515)

This concert will be held in accordance with the guidelines of venue and local government, after taking measures to prevent infection and spread of the COVID-19.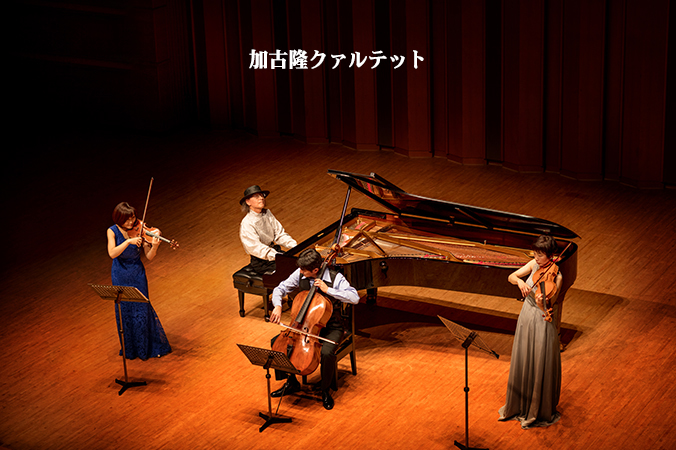 ---
Performers
Takashi Kako Quartet
Takashi Kako (Pf.), Mariko Aikawa (Vn.), Kaori Minami (Va.), Akio Ueki (Vc.)
Musical Program
Part1: Best melody selection
Waltz in the Evening Glow / Shiroi Kyotou (The Great White Tower) / Ave Maria / Taiga no Itteki (A Single Drop of Water in a Mighty River) / Tempest / Others
Part2: From "The Century In Moving Images Suite"
Is Paris Burning / Divine Passacaglia / Atelier with Water Lilies / Beyond Love and Hatred / Others
∗ Musical program is subject to change.
---